What Does Baby See?
Written by Margo Lundell
Illustrated by Roberta Pagnoni
Reviewed by Mariela D. (age 9)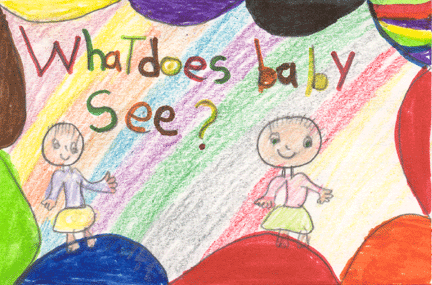 This book is about the first things a baby sees when he is born. One of the first things a baby sees is a bottle full of white milk. As he grows up, the baby learns how to use a cup. The baby gets excited when he sees toys. He likes to play with the toy trains, balls, and many more others toys. The baby likes bright toys. As the baby gets older, he sees the toothpaste and toothbrush. It's time for the baby to learn how to brush his teeth. The baby also learns lots of other things. You must read the book to find out what else he sees.
My opinion about the book is that baby always sees and learns new things. I think this is the only story about a baby that I have read and is the great story of all. I felt happy when I read this book, because it reminded me when I was a little baby. The story illustrations are colorful and bright.
I think other people would like to read it because it is a fun book. I recommend this book to people that would like to know about the things they saw when they were babies.