Leo the Late Bloomer
Written by Robert Kraus
Illustrated by Jose Aruego
Reviewed by Yaritza H. (age 9)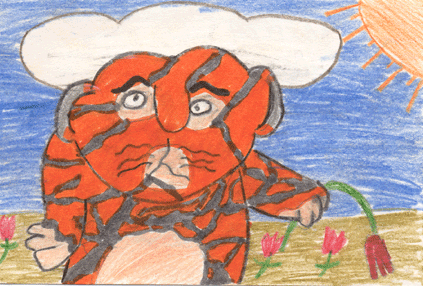 This story is about a tiger named Leo. Leo was a late bloomer. All his friends were fast learners, but Leo was a late bloomer. One day Leo's father asked Leo what was wrong with him. Leo's mother "said Leo is just a late bloomer". Then from that day on Leo's father spied on Leo for blooming signs. He spied for months but still no signs. Then he stopped, but still Leo hadn't bloomed. A year passed and he still hadn't bloomed. Then one day Leo bloomed! .
My favorite part of the story was when Leo bloomed. It was my favorite part because Leo proved that he was a bloomer. I like this book because it is interesting. I think this book is very fun to read because it has a lot of interesting details. This book reminds about the time I could not write my name, but I kept on trying until I did.
I recommend this book to a person that thinks that he or she cannot do anything right. They should enjoy this book, because Leo couldn't do anything right at first, but now he can.