Whatever after Fairest of all
Written by Sarah Mlynowski
Reviewed by Divya K. (age 9)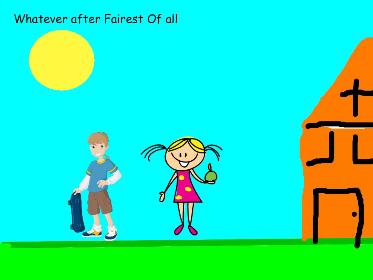 This is a hilarious book about Abby and Jonah who have a mirror that changes colors when you knock on the mirror. They magically get transported into Snow White's fairy tale. Abby and Jonah stopped Snow White from eating the red apple but if she doesn't die she does not get to meet the prince and does not get her happy ending. Read this book to find what happens to Snow White's fairy tale.
My favorite part was when the crocodiles were about to eat the 2 kids and Snow White for the stew sandwiches, until Jonah realized this and threw the stew sandwiches. I did not like the Evil Queen because she disgusied herself and wanted to hurt Snow. I loved this book alot because it was inventive, hilarious, and full of adventures and surprises.
Yes, I would surely recommend this book to all kids who are interested in fairy tales and funny adventures and with alot of surprises. I think 4th and 5th grade students would enjoy this book.