Victoria Justice Shine On!
Written by Riley Brooks
Reviewed by P.N. (age 8)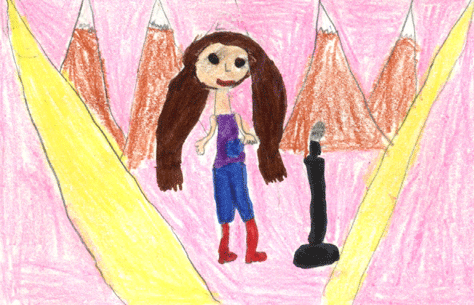 Victoria Justice is a star on Nickelodeon She has a special talent for singing and is great at acting. She was the character Lola in Zoey 101. She was disappointed when Zoey 101 came to an end, but she was excited for what the future might hold for her. The creator of Zoey 101 thought Victoria was a great actor and wanted to make her a show. Victoria was thrilled when the creator of Zoey 101 said this. Victoria now stars on Victorious, a show made for kids and teens.
I really liked this book Victoria Justice because it includes some interesting facts about her, like her favorite celebrity and favorite color. My favorite part was when they told me movies that she starred in. It has really good description and I felt as if I could understand what Victoria is going through. For example, Victoria really wanted to be on shows so she worked really hard to do that. I really want to be on the swim team like my brothers, so I will work really hard to do that!
I recommend this book to people that like biographies about famous people or just people that like biographies in general. I also recommend this book to people that don't like biographies because it is not your typical biography. This is because it has facts that make you say "Wow" and colorful graphics! This book would be good for ages 7 and up. If you like the show Victorious, you will like this book.