Night of the Howling Dogs
Written by Graham Salisbury
Reviewed by J.B. (age 9)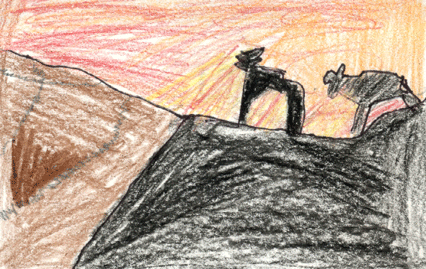 Dylan and Louie are enemies, but they're in the same scout troop. The troop goes camping in a remote place under a volcano called Halape on the big Island of Hawaii. When they arrive a nasty surprise awaits them. A giant earthquake causes a big wave to rush in and take everyone out to sea except Louie and Dylan. They have to work together to save their friends and themselves. The amazing thing about this story is that it's actually based on true events. To find out what happened read this story.
I think Night of the Howling Dogs is a great book because it gives examples of trust, kindness, danger and survival. My favorite part is when they wander up the mountain over lava and help each other so they won't die. The unique thing about this book is that there is no other book that is similar. This great book is not part of a series nor does it have any pictures. I liked being able to make my own images as I read.
I recommend this book to people who like adventure, survival and fictional history because it gives very good detail and description of people, dangers, sounds, vision, feelings and animals they encounter.