Happy New Year Mallory
Written by Laurie Friedman
Illustrated by Jennifer Kalis
Reviewed by Divya K. (age 8)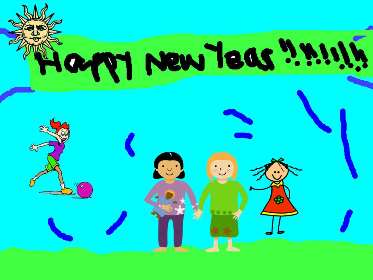 Mallory lived with her brother, Max, dad, and last but not least her mom. It was a day for school. She was so excited because she was having a winter reunion with 2 of her camp friends and Mary Ann. But her winter reunion turned out to be really bad for her. Read this book to see what happens to her winter reunion.
My favorite part was when Mallory got a stomach ache and went to the chidren's hospital. She got her appendix out. It was the worst part for Mallory. That was the best part because Mallory's parents bought her a teddy bear, a book, and a picture so that she wouldn't be bored at the hospital. Her friends also came to the hostpital to see her. I liked this book very much because I think it is a funny book. The illustrations looked real and you can really see and picture it in your head. This book comes in a series with other books.
I recommend this book to people who like humor. I also recommend it to 3rd, 4th and 5th graders.