Dork Dairies: Tale From Not-So-Fabulous Life
Written by Rachel Renee Russell
Illustrated by Rachel Renee Russel
Reviewed by Kavyaa P. (age 8)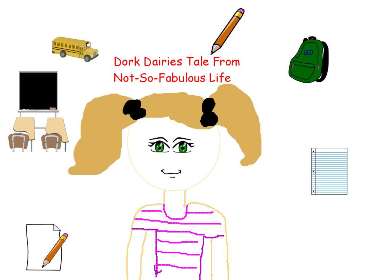 Nikki just moved into a new town and a new school, but there is only one problem. Mackenzie, the most popular girl in eighth grade, has a locker right next to her. She is very mean to Nikki. But luckily she found two girls named Chloe and Zoey and one boy named Brandon who thinks the same thing as Nikki about Mackenzie. They are her new friends in school. Will Nikki get rid of Mackenzie? Find out by reading this book.
I like this book because it was written like a dairy. My favorite part was when Nikki put the tatoos on everybody at lunch. I like this part because she does very great artwork. This book is part of a series. This is the first book. It is very similar to the other books in the series because they have the same characters. The illustrations were very neat. They are black and white cartoons.
I recommend this book to 3rd and 4th graders because it will crack them up. It will crack them up when Nikki talks about how Mackenzie and her lip gloss bring people together.