Big Nate:In Class By Himself
Written by Lincoln Peirce
Illustrated by Lincoln
Reviewed by Nithin J. (age 9)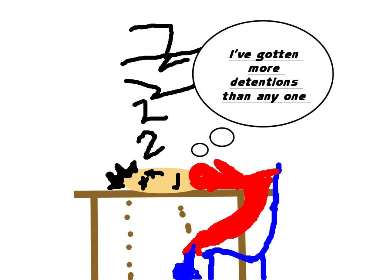 One day, a boy named Nate Wright went to school. When he got to school, he remembered that he forgot to bring his lunch. His second best friend, Teddy, had gone out for chineese food last night. He said he'll share lunch and he would also give Nate a fortune cookie. When Nate opens the fortune cookie, it said that "he will surpassed all others today." The rest of the day Nate got detention slips from all the teachers, including the principal. At the end of the day, he found out he got 7 detention slips. The School record is 6. Nate surpassed all others and he is officialy a part of P.S. 38 history.
The unique thing about this book is that the story is explained through a comic. This book is different from other Big Nate books because Nate is happy he got detention. I love the illustrations in Big Nate. Every single picture makes the book almost like a comic. My favorite part is when Nate throws up green beans in front of the whole school. This was really funny.
I recommend this book to grades 2-5. I think people who like comics should read this book because it's funny. I enjoyed this book and I think you'll like it too.