Magic Tree House: Dinosaurs Before Dark
Written by Mary Pope Osborn
Illustrated by Sal Murdocca
Reviewed by Celine L. (age 7)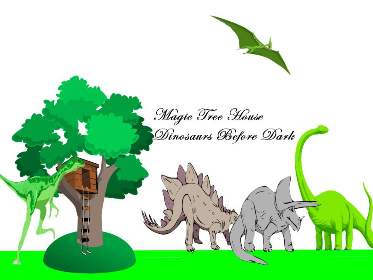 This book is about a boy and a girl named Annie and Jack discovering a magic tree house. They found it in the woods. Then Annie went in there first. Jack said come back down here it is not ours. But Annie still didn't come down. She said this place is filled with books. Jack was the one who loved books, between him and his sister. So then he climbed up as fast as he could so he could discover the books. When he got up there, he was amazed when he saw all the books in that tree house. Jack started to discover all the books in the tree house. Just then he saw a picture of dinosaurs. He loved dinosaurs. He said I wish we could go there. Just then he saw the wind starting to blow and the tree house started to spin. When the tree house stopped spinning and the wind stopped blowing Jack stepped outside. He saw that he was truely in the dinosaurs world of history. Figure out if Jack and Annie get back to their house by reading this book.
My favorite character is Jack because he knows when to do things and when to follow other people's directions. I like the illustrations because they are very interesting. They are interesting because they show how Jack looks when he sees the dinosaurs. This book is part of a huge series! So if you like this book there are many more for you to read. I have read six other books with Jack and Annie.
I would recommend this book to first, second, and third graders because the book talks about dinosaurs and they learn about them in history. I would also recommend it to people who have brothers or sisters because this book is about a brother and a sister.