Harry Potter and the Prisoner of Azkaban
Written by J.K. Rowling
Illustrated by Mary Grandpre
Reviewed by Kavyaa P. (age 8)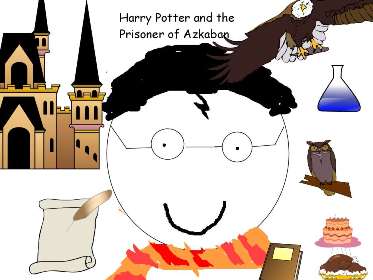 This story is about a prisoner of Azkaban called Sirius Black escaping from prison. Harry, Ron, and Hermionie have to watch out for Sirius Black. He is Harry's godfather. They got a new teacher called professor Lupin. Harry found out that professor Lupin and his father, James Potter, were friends with Sirius Black. Will Harry and his friends die? Harry thought that Sirius was a bad guy. Read this book to find out if Sirius is a bad guy.
My favorite part was when Aunt Margret blew up and floated up into the sky because I think it was hilarious. This book reminded me of the Percy Jackson books and the Narnia Chronicals because they have magic in them. I like this book because they had a lot of action.
I would recommend this book to the Harry Potter readers because they would read this book a lot. Students in third, fourth and fifth grade would enjoy reading this book.