Guardians of Ga'Hoole
Written by Kathryn Lasky
Reviewed by BC (age 10)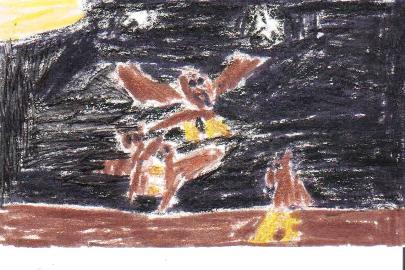 This adventurous book is about an owlet anonymously shoved out of the nest. Who could have shoved him out? Read the book to find out. When Soren is snatched by a group of owls there he meets another owlet named Gylfie. Then they learn how to fly. Will Soren and Gylfie escape? Read the book to find out.
This was a great book to me because I like adventurous stories. I like adventurous stories because they let me get very interested in the book. My favorite part was the fight scene in the desert of Kuneer (coon-ear) because of all the action. This book reminds me of the time I called out to an owl and I actually got a response. I liked Soren because he was brave to me. Digger relates to a person I know. Digger's parents were eaten while the guy I know his parents were devorsed when he was only in Pre-k.
A person who likes owls or adventure stories would like this book. The reason is because this story is about owls and because it is also adventurous. I also recommend the rest of the series. The farther you get in series the more adventurous it gets.