A to Z Mysteries: White House White-Out
Written by Ron Roy
Reviewed by Mia C. (age 8)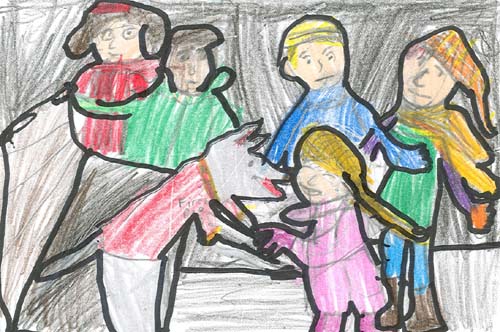 Do you like mysteries? Because Dink, Josh and Ruth Rose are back in action in this mystery they are in Washington DC.! They are solving the mystery of who stole Natasha. Natasha is KC's dog and KC is the president's daughter! Also they get stuck in Virginia! If you want to find out more read this book!
I liked this book a lot because the pictures made me feel like I was in the book watching it happen! Ruth Rose reminds me of me because she helps everyone and she is smart. Also, Josh reminds me of my brother because Josh makes a big deal out of everything in the story. He was screaming because they couldn't find Natasha. My brother made a big deal when it was raining on his birthday and he was crying so loud my mom took him out for ice cream and he stopped.
I would recommend this book to 3rd and 4th graders who love mysteries and someone who will read 128 pages. I think someone should read this book it is funny and amusing. Last of all when you start reading you can't stop! Go read this wonderful book.