Haunted Castle On Halloween Eve
Written by Mary Pope Osborne
Illustrated by Mary Pope Osborne
Reviewed by Seth S. (age 9)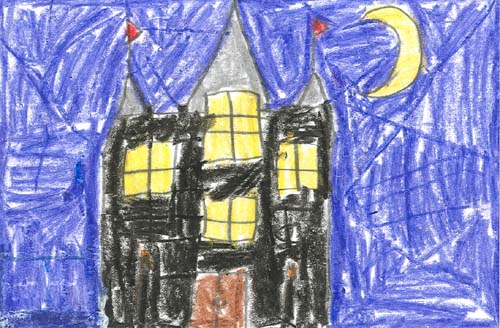 Do you like scary stuff? Do you like the Magic Tree House series? If you do, why not read this book! This book is about Jack and his 7-year old sister Annie who go to the haunted castle to find the girl who spins wool into thread first. If you want to know more, you will have to read the rest of the story! This is a fantasy because it has magic.
I liked this book because of the Halloween costumes. My favorite part was when they opened the heart of the oak because there was a secret entrance to the heart of the oak. This reminds me of my 4th Halloween because we got stuck in traffic and I got a Hershey chocolate bar.
I highly recommend this book to ages 7-9 because it is about Halloween and the Magic Tree House series. This book has 128 pages. Halloween was once called "All Hallows Eve". Halloween lovers will love this book!