The Clue At The Bottom Of The Lake
Written by Kristiana Gregory
Reviewed by Deanna M. (age 8)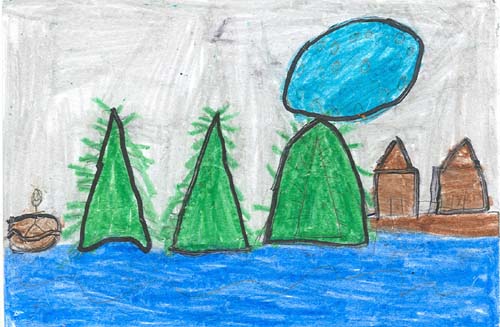 Do you like thinking outside of the box? Well you are going to have to in The Clue at the Bottom of the Lake. This book is about 3 kids named Jeff, David and Claire who find historical utensils at the bottom of a lake. It takes place on Cabin Creek Lake. This is a mystery that will put your mind to the test. Do you think you're up to it?
I liked this story because it kept you guessing until the very end. It was also very interesting. Once you start reading it you won't want to put it down. I admired Claire because she was brave and worked hard to solve the case. She motivated Jeff and David to work harder. I enjoyed the illustrations because they were magnificent. My favorite part was when the kids took a hike with Mr. Wellback. That part was important because it helped them think while Mr. Wellback talked about the case. This book reminds me of another book I read called "Who Stole Halloween?" It reminds me of that book because they had to solve a mystery in that book too. They are both very funny books.
I would recommend this book to 7-10 year olds or 3rd-5th graders who like mysteries. If you want to find out what happens and who stole the utensils you should read the book. This book is 158 pages long. There might be a surprise!