100 Pounds Of Popcorn
Written by Hazel Krantz
Illustrated by Vic Herman
Reviewed by Gary S. (age 11)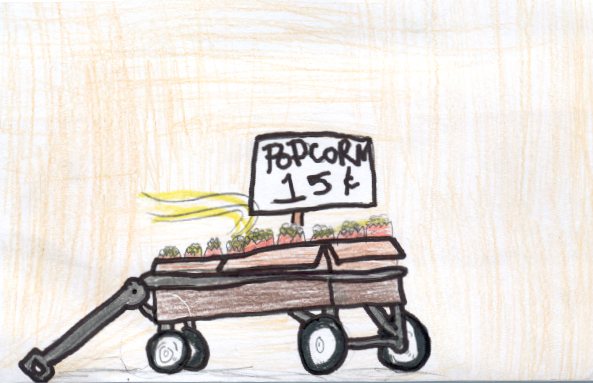 In the story, 100 Pounds of Popcorn, A family went on a long, hot trip in their car. On the side of the road they found a 100 pound bag of popcorn, so they picked it up and put it in the trunk slowly. When they got home from their trip, Andy wanted to start popping some and selling it by the bag. He needed help so he called three of his friends, Barry Lindhoffer, Sally Jean, and Peggy Marshall to help.
They all tried to agree on a price, .15 or .10 a bag. Since they needed supplies they worked jobs as weeders, dog walkers, and mowers. Then they got the money for butter, oil, and paint so they could start selling around town. Since they got good business in town they thought they should try places where more people were. Andy, Barry, Sally, and Peggy went to the big high school baseball game to sell. They sold so much popcorn they now wanted to sell at the movie theater. When they tried to sell at the movies, they had big competition from the popcorn stand at the movies so they did not sell there.
Andy, Barry, Sally, and Peggy wanted to put on a play to celebrate the money they earned at the Henderson's house. They had free admission but they raised the price on the popcorn to .15. After that, they went to the back to cash in their money. The banker was astonished at how much money they got and all four of them got $10.00 each. Sally, Barry, and Peggy all went to spend their money while Andy did chores. The next day Andy felt like buying a telescope, but he did not have enough money so he bought a microscope.
If I could change anything in this story, I would change their red wagon holding bags of popcorn into a car with a popcorn machine inside it so it's cooler. My favorite part of the story was when all of the kids go to the movies and outsell the popcorn man. My favorite character is Andy becuase he is the one who found the 100 pounds of popcorn. My least favorite character is Peggy because she doesn't do much.
This story relates to my life because I like popcorn and I like making money. I think others should read this story because it's cool and funny and shows what you can do if you're creative.