Lemonade for Sale
Written by Stuart Murphy
Illustrated by Tricia Tusa
Reviewed by DS (age 8) & EA (age 8)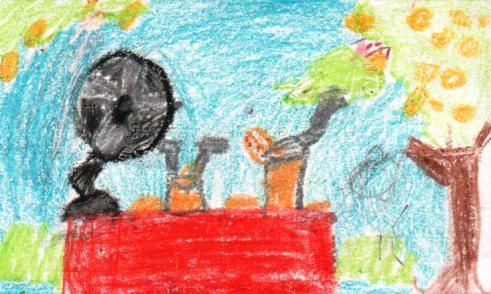 Because they needed to fix their clubhouse, Matthew, Meg,Danny and Sheri decided to earn some money. On Monday they sold 30 cups of lemonade, Tuesday 40, Wednesday 56, Thursday 25, but on Friday everyone started going to a different corner. So, Meg thought they should go and check out their competition. Even though the lemonade only cost 25 cents, Jed was juggling all kinds of objects and people wanted to see him. Even though the kids were doing lots of hard work, everyone was having fun watching Jed juggle. Then Sheri had an idea. They invited Jed to come juggle right next to their stand. Now everyone drank lemonade as they watched Jed's juggling. They sold so much lemonade that they went off the chart! The clubhouse was fixed and had a new member- Jed the juggler.
This book was really good because with lots of details it tells why they needed money and how they solved their own problem. We loved the pictures because they showed us what was happening. There were even graphs to show how much lemonade was being sold. Our favorite part was when the pet bird kept repeating what the boy was saying-- that's funny.
Kids who like lemonade can read this book and find out how to make it. Older kids can read how to work to make money when they need some. Adults will like how this story tells kids to ask others for help and to solve their own problems The book is written for third graders but if someone reads it to you, younger students will like the book, too.