School of Fear
Written by Gitty Daneshvari
Reviewed by Leila S. (age 9)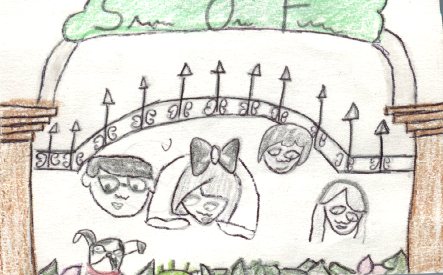 School of Fear is about four kids that are all afraid of something. Madeleine is deathly afraid of bugs, especially moths. Theodore is petrified of dying. Lulu is scared of confined places. And Garrison is terrified of deep water. All four of the kids are sent to the School of Fear. It is a top secret place and not very many people know about it. The head of the school is Mrs. Wellington who is very strict. She makes the decision of who can attend the school.
My favorite part was when Theodore was at school and made a chart. He would call or text his family members to see if they were dead or alive. I enjoyed this part because he was so dramatic. When he thought they were dead, he freaked out. Although he was not the character I liked best.
Madeleine was my favorite character because she stands out by wearing a veil, a skull bow, and insect repellent. She wore these to protect her from bugs. I can identify with her because I will do anything to protect myself from spiders, the creatures I am afraid of.
I would recommend this book to kids from ages 9-12. Even though I think the students in the book are older. I found the plot both interesting and funny. It was interesting that they had a special school for children that had fears. Also, the author wrote with some humor in parts of the story. If you can relate to someone who has fears, I think you would enjoy this book.