Nature's Children: Scorpions
Written by Amanda Harman
Reviewed by Matthew S. (age 7)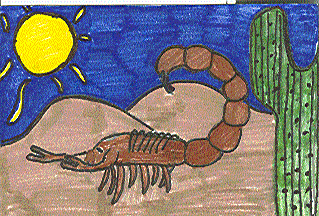 This story is about scorpions and how they live. Some scorpions are average (about one foot long). Some scorpions make holes in logs for them to live in. Some scorpions live in the desert. All scorpions can have a very nasty sting.
I liked the book Scorpions. When I read this book it made me feel good because of the way the illustrations looked. They were photographs, and they looked very realistic. I liked it when the book talked about how bad scorpions can sting. That was my favorite part. It made me remember the time that my dad got stung by a scorpion.
I would definitely recommend this book because I like scorpions and this book was all about scorpions. It had lots of photographs, and they were fun to look at. I could look at a real scorpion and not get stung! I think fourth graders would like to read this book. Why? I have a friend who is in the fourth grade, and he likes scorpions. So, I think he and other fourth graders would like this book. I bet he would like the part when scorpion babies are being born because he likes seeing reptile babies being born.