Goosebumps Night of the Living Dummy
Written by R. L. Stine
Reviewed by Ashley R. (age 8)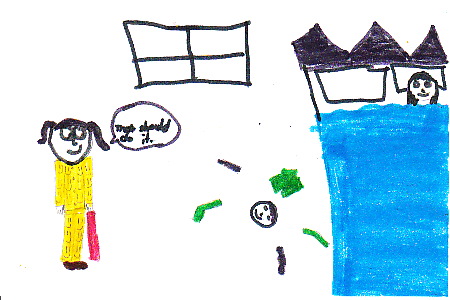 Have you ever read a book in the Goosebumps series? If you haven't you have got to read this one. One day, Kris Powell took a walk with her dog. On the walk she found a trashcan with something inside it. It was a dummy! Kris decided to take it home. When she got home, Kris went to show Lindy. They talked about how Kris found the dummy and she said she named it Slappy. That night, Lindy heard something downstairs and went to check it out. When she got downstairs, she saw Slappy moving all by himself. Slappy rushed upstairs but Lindy could not catch him. So she grabbed a stick and hit Slappy with it before he could attack Kris.
I like this book because I like ventriloquism (and the dummy in this book talks). It is a fun book, plus it is entertaining. When Kris finds the dummy in the trashcan, she gets scared beacuse she thinks it is a real person. My favorite character is the dummy because it comes to life and I know that cannot happen in real life. I enjoyed this book because I actually wanted a dummy in real life and was upset that Kris found one and found a job in ventriloquism.
I would recommend this book to other people who like ventriloquism. Maybe other ventriloquists have dummies that come to life too! I would also recommend this book to people who like other R.L. Stine books where things come to life!