The Principal from the Black Lagoon
Written by Mike Thaler
Illustrated by Jared Lee
Reviewed by Tirique W. (age 9)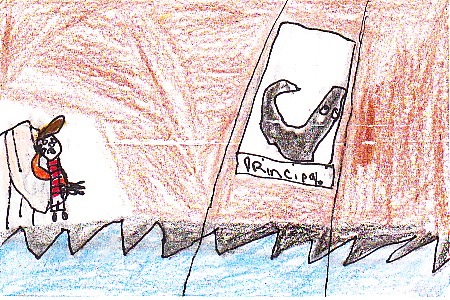 Have you ever read a book in the Black Lagoon series? If you haven't, I can tell you all about one of the books. This story is about a boy named Hubie. He is having a hard time in school because he keeps getting in trouble. He knows he is going to have to see the principal. People are spreading a rumor about the principal. The rumor is that she makes tall students in to coat racks, the short kids she feeds to her alligator and the fat ones she uses as paperweights! That would be scary!
I like this book because it reminds me of school. In school there are always rumors going around. You never know if they are true! My favorite character is Hubie. I like Hubie because he is scared to see the principal. I also thought the illustrations in this book were great because they look very real. My favorite picture is of the principal holding a coat rack and the coat rack is really a kid!
I would recommend this book to second grade students because I think they would enjoy hearing about a scary principal. Every school has a principal, so most elementary school students might like this story.