The Gym Teacher from the Black Lagoon
Written by Mike Thaler
Illustrated by Jared Lee
Reviewed by Christa W. (age 9)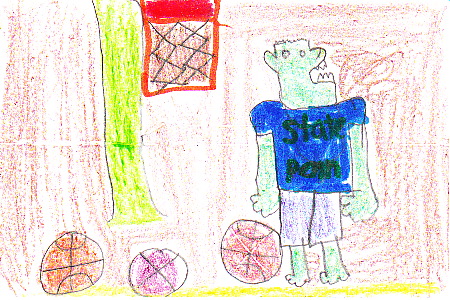 Have you ever heard of a weird, freaky school from the Black Lagoon? I have when I read this book! In this book, kids signed up for gym class but find out the teacher is hairy like Big Foot. Hubie hears that the gym teacher tells them to do push-ups, pull-ups, chin-ups and sit-ups (bust most of the kids just throw up). He also hears that Mr. Green (who I think is related to Ms. Green from the other Black Lagoon books) makes them do laps around the world! But they are all just rumors and Hubie gets to meet the real Mr. Green at the end.
My favorite character is Hubie. I like him because he gets all freaked out because there are new teachers (who he hears are monsters). But what he doesn't know is that they are all perfectly fine! I liked this book because the words made you think about what the gym teacher looked like before you even saw a picture of him. I thought the gym teacher was going to look like Big Foot. My favorite part of the book was when they described some of the activities the gym teacher was going to make the kids do. They thought he would make them do all different kinds of push-ups. chin-ups and pull-ups.
I would recommend this to all third grade classes because it is a great book and every school has a gym and a gym teacher. Second grade classes would probably like it too because they would be curious about the different activities in gym.