The Gym Teacher from the Black Lagoon
Written by Mike Thaler
Illustrated by Jared Lee
Reviewed by Jose M. (age 10)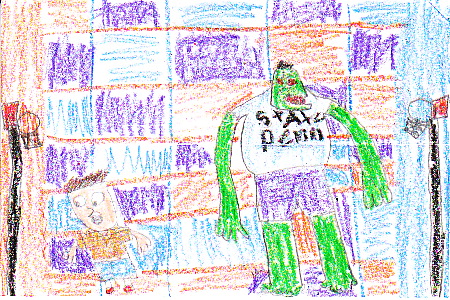 Have you ever read any of the books from the Black Lagoon series? If you have, I think that you should make sure to read this one! Hubie is going to have to go to gym but he heard that the gym teacher (Mr. Green) was a giant and also green! He heard that Mr. Green would make you run laps and then run around the world. Hubie even hears rumors that if you try to climb the rope and don't make it to the top, he will light the bottom of the rope on fire! To test your fitness, he even makes kids lift trucks over their heads. When they get to gym, the new gym teacher was not green or mean. He seems nice and just wants to play basketball.
My favorite part of the book was when kids were spreading rumors about the new gym teacher. I liked that part because the rumor was not true. I thought it was funny that kids thought he would make them run around the world. My favorite character is Hubie because he is always afraid when he doesn't know what is going to happen. The illustrations in the book were good because the picture of the gym teacher reminded me of Shrek because he was green and looked like a giant.
I recommend this book to kids that like weird stuff and alien books. Some of the characters in the book look like aliens. I would also recommend this book to third graders because I know they like freaky books!