True Story of The Three Little Pigs
Written by Jon Scieszka
Illustrated by Lane Smith
Reviewed by Andray T. (age 8)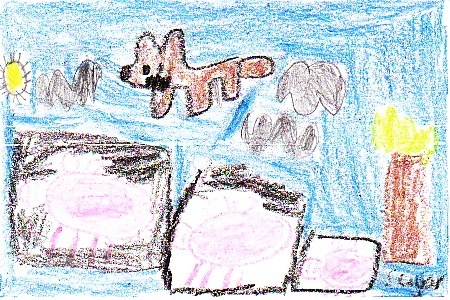 Have you ever been chased by anything? If you have you can relate to this book. In the book, there was a wolf and three pigs. The pigs were mean and the wolf was friendly (weird, I know). All the wolf wanted to do was borrow some sugar, so he went and asked his neighbors (the pigs) if they had any sugar he could borrow. When the wolf got to the first house that was made out of hay, he had a sneezing fit and ended up sneezing the first pigs house down! He still needed sugar so he went to the next house that was built out of sticks. He had a sneezing fit there too. Finally, went to the last house that was made out of bricks. To see how the story ends, you should read this book!
I liked this book because it is funny! The author made it sound like the wolf was trying to prove that he really wasn't the bad guy. This book is interesting because all the wolf wanted to do was get some sugar from his neighbors, but things did not turn out right! It is the opposite of the story that you usually read about. My favorite character is the wolf because he is not mean like everyone thinks. He is kind because he is borrowing sugar to make a cake for his mom. My favorite part is when the pigs refused to give the wolf sugar because it proves that the pigs are the mean ones, not the wolf!
I think this book is good for third grade students. If you like books that are funny, you will really enjoy this book! I know I did!