Junie B., First Grader Toothless Wonder
Written by Barbara Park
Illustrated by Denise Brunkus
Reviewed by Amelia G. (age 9)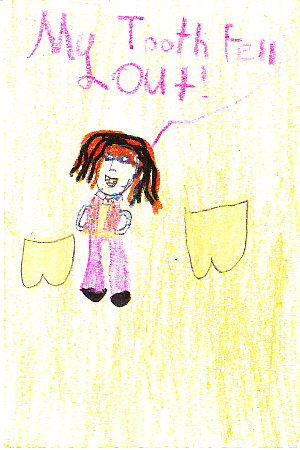 Have you ever had a loose tooth? Junie B. Jones has. I read this book a week ago it is about a little girl named Junie B. Jones. Her tooth is loose and when her grandpa pulls it out, she has a mystery on her hands. What does the tooth fairy do with the teeth? Do you know? To find out more information, Junie goes on a hunt and asks her relatives what the tooth fairy does with the teeth. Some people say that the tooth fairy is a witch while others say that they tooth fairy is real. She finally finds out what really happens when she puts her tooth under her pillow and the tooth fairy takes Junie's tooth.
I really love this book because a long time ago, I had a loose tooth too. I always wondered what happened to those teeth. I guess I'll never know for sure! My favorite character in the book is Junie because when I was little I was curious and acting crazy just like she does in the book. My favorite part of the book is when Junie finds out what the tooth fairy does with the teeth. She gets really excited, jumps around, screams and gets in her brother's face which makes him cry.
I recommend this book to anyone who has had a loose tooth because it will remind them of a time when their tooth came out. I also think that anyone who has wondered what happens to their teeth once they've fallen out (or what is done with them once they aren't in your mouth anymore) would enjoy this book also.