Diary Of A Wimpy Kid: Dog Days
Written by Jeff Kinney
Illustrated by Jeff Kinney
Reviewed by Tirique W. (age 9)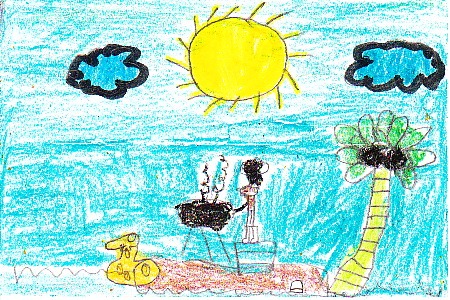 Have you ever seen the movie Diary of a Wimpy Kid? If you liked it you should read the book. The main characters are two boys named Rowley and Greg. In the book Greg wants to have a great summer but Rowley only does stuff that is boring like going fishing and going camping. Instead, Greg decided to create a lawn service during his summer vacation. He mowed peoples' grass for a penny! He creates his business to save up money to buy a new dog because his old ran away.
I like this book because Greg thinks fishing and camping are boring and so do I. There are much more fun things to do in the summer when there is no school! But, I don't think Greg should have started a lawn service during the summer because people should be responsible and do their own mowing! My favorite part is when Greg and Rowley go camping and they decide to camp in front of a game store. While camping at night, Rowley and Greg each have to take watch so no one can get in to the game store.
I would recommend this book to anyone who does not like fishing or camping. After reading this book you might learn a lesson about camping that you weren't expecting. You should always try something before you judge it.