Weird Stories from the Lonesome Cafe'
Written by Judy Cox
Illustrated by Diane Kidd
Reviewed by Trason D. (age 8)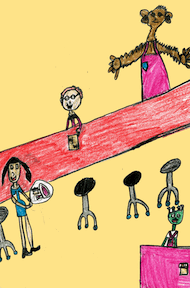 This story is about a café in the middle of the Nevada desert. When Uncle Clem, an aspiring author, and Sam, his nephew, decided to work there they realized that strange things were happening at this café. Many famous people such as El, Dot, and Harry begin working at the café with them. Reporters heard that "Bigfoot" may be working there, so they all decided to go to the café to look for him. What happens when the reporters get to the café? You will just have to read the book and see!
I love the book because it is a fantasy and I like fantasies. My favorite part is when a flying saucer fell down from the sky. I enjoyed this part because this is when the alien came out of the space ship and he looked funny. The illustrations in the book are funny and made me laugh. The illustration I liked the most was of the alien wiping down the table at the café. His arms were too short to wipe across the table, and it looked like he was struggling to wipe it down.
I recommend this book to all kids who love silly stories and are 7 years old or older. I'm sure you will like it!