Panda Puzzle
Written by Ron Roy
Illustrated by John Steven Gurney
Reviewed by Jessica S. (age 7)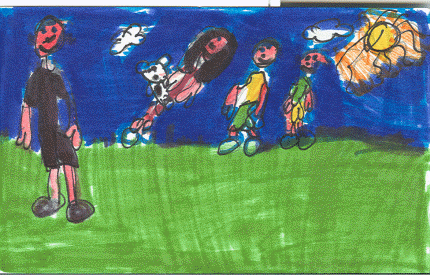 Dink, Josh, and Ruth Rose went to the zoo to see a new baby panda that was just born. When they called to Winnie, the baby panda, to come out, he didn't but the mother did, jumping at someone. Winnie had been kidnapped! Officer Falcon found a note, and it said to leave one million dollars in the hollow tree on Goose Island by midnight tonight. NO TRICKS or you will never see Winnie again. Dink, Josh, and Ruth Rose interviewed the people and they found out that Flip Frances was the kidnapper.
I like the book The Panda Puzzle because I love mysteries and A to Z Mysteries are one of my favorite series. This book is different from the other books in the series because it starts with a "P". In A to Z Mysteries all the titles are in alphabetical order. My favorite character is Josh because he is very funny and he loves to eat. He loves snacks, too. This book made me feel happy because it made me wonder about where the baby panda was.
I do recommend this book because I love mysteries. I recommend that a girl named Anna Claire read this book because we both like mysteries. I think she would like the part where they found they found the baby panda because we both like animals. That part of the book would probably make her smile.