Jigsaw Jones
Written by James Preller
Illustrated by James Preller
Reviewed by Landes P. (age 8)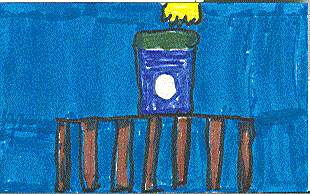 Jigsaw Jones had to help Sally-Ann get her money back from Bobby Solofsky Bobby had tricked her with a fake magic trick to get her money at the fair. Bobby's trick is not the only thing that stinks, though. Something smelly is going on in the classroom, too! Somebody tricked Jigsaw Jones by putting salt on an egg and making it float in a jar of water. Who did it? Jigsaw Jones has some fun adventures as he tries to solve the case.
I liked this book because it's kind of like a detective book, and I like detectives. And it's not too long or not too short – it's a 73-page book. My favorite character is Jigsaw Jones. He is the main character. I like him best because he's the detective in the story. My favorite chapter was called "The Mysterious Floating Egg" because I know that trick. You have to put salt in it.
I recommend this book because it is funny. I think my friend Logan would like this book because Logan likes detective books and chapter books. I think he'll like the chapter called "Bobby and Yoda" because he likes Star Wars and these chapters have Star Wars names.