The Three Investigators: The Mystery of Skeleton Island
Written by Robert Arthur
Reviewed by Logan B. (age 7)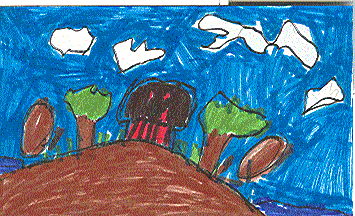 In this book Pete's dad asks the Three Investigators to do a movie at Skeleton Island. When they got to Skeleton Island he told the boys that there was treasure hidden on the Island. When they were hunting for it, they met a boy named Chns. They found the treasure in a blowhole in a underwater cave, but they got stuck in the blowhole. Everything turns out okay in the end.
I liked this book because it was a mystery. My favorite part was when Bob and Pete got stuck in the blow hole because they couldn't get out and solve the mystery. That made the book kind of like an adventure. Pete was my favorite character because he got stuck first. When I read this book I felt like I was an investigator. And I liked that.
I would recommend this book because it's a good adventure story. I think my best friend Cade would like this book because he loves mysteries, and he likes The Three Investigators books. I think he would like the part when they get stuck in the blow hole the best.