Stanley and the Magic Lamp
Written by Jeff Brown
Illustrated by Scott Nash
Reviewed by Will B. (age 9)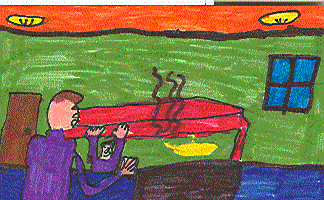 Stanley finds a lamp. He rubs it and a genie comes out. Stanley wishes for a basket that does his homework for him, and the genie makes his wish come true. Stanley and his brother Arthur make several more wishes. They get better at making wishes so the wishes get better and they don't get fussed at. They enjoy all their wishes.
I liked this book because I like adventure. My favorite part was when a little man came to arrest the Lambchops and he got scared. When I read this book I felt like I wanted to know more. My favorite character was the little man because he's kind of funky looking. He has big moustache that goes really far in both directions.
I would recommend this book because I really like this book. It's a funny adventure book that makes me laugh. I think that my brother David would like to read this book because he likes adventure. I think my brother would like the part were Stanley makes the genie come out from the lamp and when Stanley's dad beats the best tennis player in the world.