Magic Tree House: Lions at Lunchtime
Written by Mary Pope Osborne
Illustrated by Sal Murdocca
Reviewed by Jeb H. (age 7)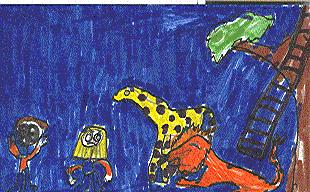 In this story Jack and Annie get to go to Africa in a magic tree house. When they get to Africa, they meet a giant elephant. It sprayed Jack and Annie. When they got back to the tree house, there were lions everywhere in front of the rope ladder so they could not get in! They were scared that the lions would eat them! But they tiptoed behind the lions and got into the magic tree house safely.
I liked this story a lot because it is an adventure story, and I like adventure stories. My favorite part was when Jack and Annie sneaked behind the lions. I liked that part because it was the high point of the story. This book reminds me of other adventure books I've read because the characters go places to have their adventure. This is a Magic Tree House book, and I'm hoping to read every one of those books in our library before the end of the year.
I recommend this book because it's a good adventure story. It has good facts in it, too, that tell about the animals and the places. I think this book would be best for my friend Jack. I think so because we both like adventures. Jack's favorite part would probably be when the lions were in front of the tree house because that's the high point of the story.