Arthur and the Cootie Catcher
Written by Marc Brown
Reviewed by Haaris P. (age 8)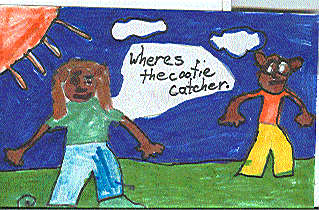 One day Prunella got a Cootie Catcher on her half birthday. The magic only works if you get the Cootie Catcher on your half birthday. One time Arthur asked the Cootie Catcher if Binky would sing a silly song, and he did. Then Binky asked if he should carry his good luck charm everywhere; the Cootie Catcher said yes, so he did. But the Brain, another friend of Prunella and Binky and Arthur, didn't listen to the Cootie Catcher and his bike got run over. Then Francine asked the Cootie Catcher, "Should we stop listening to you?" and it said yes, so they threw it in the trash.
I like this story because it's funny and has a lot of magic. My favorite part was when the cootie catcher got lost. I like Arthur because he's always nice to people. The Brain reminds me of my brother because he is really smart. I think that it's unique because it has magic. This book made me feel happy.
I would recommend this book because it's funny and has magic. I would think my teacher would love this book because she loves Marc Brown and other authors; also, she's a book person. People in K-2 would probably like this book because it's appropriate for their age. People would probably like the part where the cootie-catcher got lost.