Ricky Ricotta's Mighty Robot vs. The Stupid Stinkbugs From Saturn
Written by Dav Pilkey
Illustrated by Martin Ontiveros
Reviewed by Joe F. (age 7)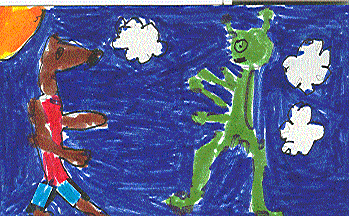 In the book Ricky Ricotta's Mighty Robot vs. Stupid Stinkbugs from Saturn, Ricky battles a stupid stinkbug from Saturn to keep him from taking over the earth. One day, Ricky and his robot were playing cops and robbers when his cousin Lucy showed up, and wanted to play princesses. He didn't want to do that; later, though, a stinkbug showed up with a plan to take over the earth. Ricky's robot and his cousin's pets, with a little from Ricky and his cousin, fight the stinkbugs and win. They celebrated by bringing out a huge chocolate cheesecake.
I think my book was great because it has action. It was unique because mice and stinkbugs don't talk. This book is part of a series about Ricky Ricotta. It is similar to the other books in the series because all of the villains from outer space. My favorite character is the Mighty Robot. He can do anything – do your chores, fix toast. It's cool, too, because it's science.
I would recommend this book to my friend Cooper. He would love this book because he likes action and it has action. People would like this book because it had a big battle and the battle's sort of weird. I think the part of the book everybody would like best is when Ricky looks up and sees that Lucy had eaten all the gumballs and they made her really tall – just plain bigger.