The Miserable Mill
Written by Lemony Snicket
Illustrated by Brett Helquist
Reviewed by Gene C. (age 8)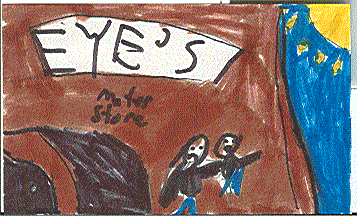 In my book, there are three children. They want better lives because Count Olaf always comes to where the orphans are living and tries to steal the Baudelaire fortune their parents left them when they died in a terrible fire. The children go off to a mill. It is called this: Lucky Smells Lumber Mill. The third Baudelaire, named Klaus, has to go to the eye doctor, who is really a hypnotist. They capture their arch nemesis, Count Olaf, but he gets away.
I don't think the pictures are nice pictures, because they look like cartoon pictures!! I hate cartoons pictures except for another chapter book. This book is like the other books by Lemony Snicket, because of his fracases. It is part of a series called A Series of Unfortunate Events. It is like the other books in the series.
I recommend this book maybe to second, third, or fourth grade students. It is good, funny, and sad, because one of the children is hypnotized. They do lose in the end. Probably second and third graders will like this book more than fourth graders. I think people will like it mort when the middle Baudelaire uses the stamp machine wrong!!