Mystery at the Greenfield Dog Show
Written by Gertrude Chandler Warner
Illustrated by Gertrude Chandler
Reviewed by Elle M. (age 7)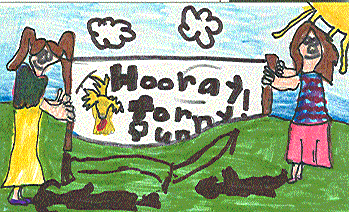 The book is about a dog show in Greenfield. The Teagues come to town with Sunny, their dog, to go to the dog show and stay with the Aldens. One day while the Teagues's daughter was getting some water and Aldens were in their rooms, someone steals Sunny. So, they have to find Sunny before the big show. In the end, the Aldens find Sunny, and they figure out who stole her. Also, Sunny wins the show!
I think the Mystery at the Greenfield Dog Show is a very good book. I like it because it has dogs, and some of the dogs remind me of dogs I've seen. I liked it because it kept me thinking. My favorite part was at the end when they told the winner. Also, I liked a little girl named Violet in the book. No one changed in the book. I think the illustrator was a good artist. Also, it is not like a book I have ever read. Last, it is part of a Boxcar Children series. It did not make me feel like it happened in my life. It also made me feel like I want to move on and keep reading the book.
I recommend that just about anybody would like to read this book. I think people would like the book because it is about dogs and most people like dogs. I think my cousin Arden would like to read the book. I think she would like the dog show because she likes to hear about and see new kinds of dogs.