The Mouse and the Motorcycle
Written by Beverly Cleary
Illustrated by Louis Darling
Reviewed by Sydney S. (age 8)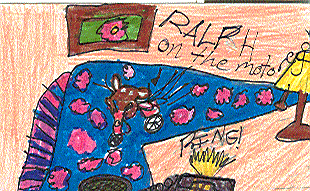 The Mouse and the Motorcycle is about a mouse named Ralph who lives in a hole in a hotel. One day a boy and his family move into the hotel for a few days. The boy's name is Keith, and he has a motorcycle, a sports car, and an ambulance. Ralph really likes the motorcycle! Keith and Ralph become best friends, and make a deal that Ralph could ride the motorcycle at night and Keith could play with it in the daytime. Ralph has many adventures with the motorcycle.
I like this book because it has a lot of details and the characters have a lot of feeling. My favorite part was when the mouse got on the motorcycle and rode it into the trash can! It's my favorite part because he doesn't know how to ride it, so he just falls into the trash can! I liked Ralph because he's very adventurous. Ralph and his mother remind me of, well, me because sometimes I get worried and sometimes I like adventures. I think Ralph changed because he learned better manners and he learned how to ride the motorcycle. Yes, there are illustrations. I think they are very funny. I think the book is very unique because I've never read a book with a mouse talking to a boy. I think it's not like any other book by Beverly Cleary because Ramona Quimby is about a girl. This book is part of a series. It is similar to the others because they're all about Ralph. I felt like laughing in parts of the story. It made me think "What's going to happen next?" This story reminded me when we thought there was a dead mouse somewhere in the house.
I would recommend this book to other people because it has lots of good parts in it. I recommend this book to my 4 year-old brother, Sam because he likes motorcycles and cars and all that stuff. I think he would especially like the part when Ralph rides off the table into the trash can. I think it's weird when the two first- grade teachers caught Ralph in a glass. It's weird because the teachers are very strange. I think Sam would like that part too.