Pony Express
Written by Cynthia Mercari
Illustrated by Cynthia Mercari
Reviewed by Jake S. (age 8)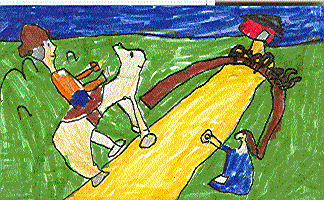 The book The Pony Express tells about how miners during the California gold rush wanted their mail faster. The gold rush started when a man found gold nuggets in California. Next, everyone was going to California, and the miners wanted their mail faster. They tried lots of different ideas – ships, camels, mules, stagecoach – and finally decided that a pony express was the best idea. The pony express rode to one station then another and another until they got the mail to California. When Abraham Lincoln was President, then California gold rush was over, and they didn't need the pony express any more.
The Pony Express is a good book! One person in the story reminds me of myself because he has the same middle name. I thought that at the time the pony express started Abraham Lincoln was President, but he was President at the end. I learned a lot about American history in this book, and it was interesting. My favorite part was finding out who invented the donut.
I think a child who enjoys cowboys would enjoy this book because it takes place in the California gold rush in the 18th century. I think my big brother would like this book because when we were in preschool we played cowboys. I think my brother would like the part when it tells who invented the donut.