Where the Wild Things Are
Written by Maurice Sendak
Illustrated by Maurice Sendak
Reviewed by Eddie C (age 9)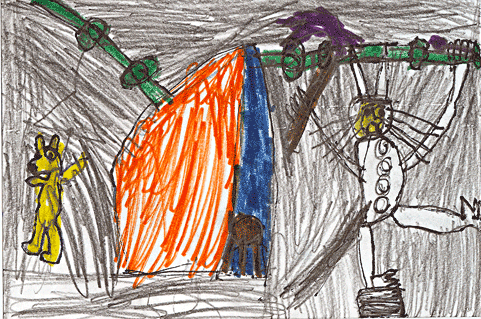 Hello people. I'm going to tell you about Where the Wild Things Are. First, Max wore his wild thing costume. Max had a costume because he is pretending to be a wild thing. Next, Max was not making good choices so his mother sent him to bed. Max had no dinner. Then, his room grew into a jungle. And Max got in a boat. He saw the wild things. He became the king of wild things. Max and the wild things had fun. Then Max sailed away and went back to his home. The wild things showed their terrible things.
I feel I want to be friends with the wild things because they look cool. The wild things are cool because they look like monsters in the pictures. I like this book because the wild things look like monsters and I like reading stories with monsters. I like the part when they had fun at the jungle because they had lots of energy. This book is special because Max became king of the jungle.
I think you should read this book because it has adventures. People who like adventures and monsters will like to read this book.