Frog and Toad All Year
Written by Arnold Lobel
Illustrated by Arnold Lobel
Reviewed by Thomas Z. (age 7)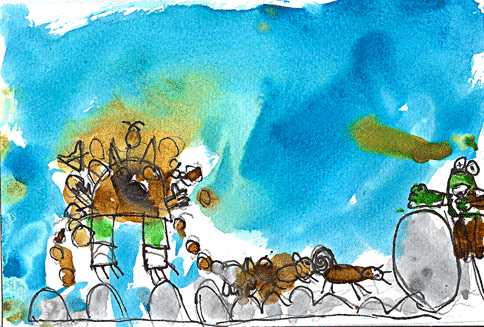 Frog and Toad are best friends. One hot day, Toad was getting chocolate ice cream. The sun was so hot that it was melting the ice cream. The two big ice cream cones dripped all over Toad and he became an ice cream monster! All the animals were scared of him. Will Toad get out of this mess? You will have to read the book to find out.
I enjoyed Frog and Toad because it was funny and absurd. My favorite part was when Toad fell into the pond after tripping on a rock. It reminded me of when my sister pushed me into the lake in Pennsylvania. I felt upset because I was cold and wet, just like Toad. I love the illustrations because they added great details and a mix of colors. I learned now to always go with a friend.
I recommend this entertaining book to people who like books about friends and people who are not good friends because they might learn how to be a good friend.