Poppleton and Friends
Written by Cynthia Rylant
Illustrated by Mark Teague
Reviewed by Evan K. (age 8)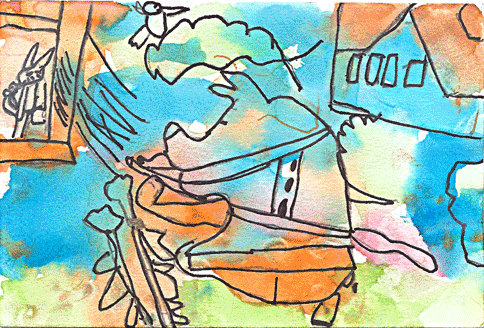 There was a pig named Poppleton. He just moved out of the city. He moved into town and made this new neighbor, Cherry Sue. She was very nice. She called Poppleton over every night and day and afternoon. Poppleton got sick of Cherry Sue calling him over. When Cherry Sue was calling Poppleton over, he sprayed her with a hose. Will they ever be friends again? You have to read the book to find out.
I loved Poppleton because it was very funny. It will help you read better and you can read it to your younger siblings. You would love the words and pictures. There's a problem in every Poppleton book. My favorite part was when Poppleton sprayed Cherry Sue with a hose because it gave me a good image in my mind. And it reminded me of when Austin sprayed me with a hose. I think Cherry Sue and I felt the same way as each other. We felt mad and annoyed too. I loved the bright colors and detail too. It feels like you're in the book.
I think you would love this book because there are funny and good pictures. They will give you good images in your mind. I would recommend this book to everyone.