Young Cam Jansen and the Dinosaur Game
Written by David A. Adler
Illustrated by Susanna Natti
Reviewed by Andrew K. (age 7)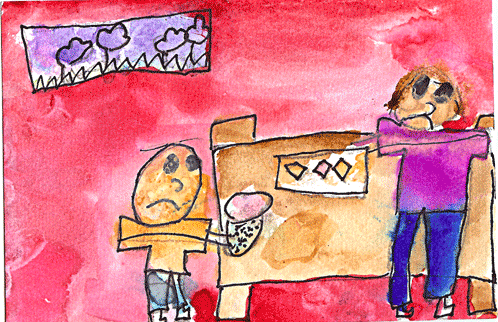 Cam is a girl that goes to school and she is great at solving mysteries. She has a best friend named Eric who is always by her side. They are at a party and when they first arrive, they have to guess how many dinosaurs are in a jar. There is a kid named Robert who does something bad and if you want to find out, well, you'll just have to read the book to find out.
I enjoyed Cam Jansen and the Dinosaur Game because there's a lot of action in it. It's hard to let this book go because I never really read mystery books, but now these are the only mystery books I read. I like the part when Robert told the truth because it gave me a strong happy feeling. Robert changed because at first he didn't tell the truth but then he finally did. He is the kind of boy who doesn't tell the truth but doesn't want to get in trouble, so then he tells the truth, I think this book is unique because I've never heard of a book with a young detective girl except for Young Cam Jansen books.
If you like mysterious action then you will love Cam Jansen. It has a lot of it. I recommend Cam Jansen and the Dinosaur Game to people who love mystery books and unique books that make you want to read to the end. You might love this book because it will teach you that it is not good to cheat.