Mr. Putter and Tabby Feed the Fish
Written by Cynthia Rylant
Illustrated by Arthur Howard
Reviewed by Michael I. (age 7)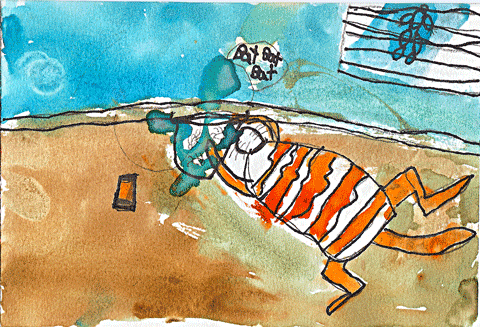 Mr. Putter and Tabby are great friends. Mr. Putter is old and Tabby is an old cat. Mr. Putter liked pet fish. One day he decided to buy three goldfish and he did. Tabby got exercise. Her whiskers tingled and her tail twitched. When they got home, Tabby was watching and batting the fish for the whole day. Mr. Putter can't take Tabby away from the fish. So Mr. Putter puts a blanket on top of the fish bowl. Tabby bats because Tabby wants to eat the fish. Will Mr. Putter get Tabby away from the fish and to stop eating, or will he need to give the fish to Mrs. Teaberry? Find out!
I loved Mr. Putter and Tabby Feed the Fish. My favorite part is when Tabby was batting like crazy because I like when the author repeats the words, and it's the main problem. I know how Mr. Putter feels when he has to give his fish away. He can't see it and he can't do anything with his fish. It reminds me of when my fish died. I felt sad so I think that Mr. Putter feels sad. I liked the illustrations because they are funny and it was a good picture in my mind too.
You will love Mr. Putter and Tabby Feed the Fish. If you have a cat, I would recommend this clever book to you because it is about a cat. You will learn that fish and cats are not a good match because cats will try to eat the fish.