Arnie the Doughnut
Written by Laurie Keller
Reviewed by Ada K. (age 8)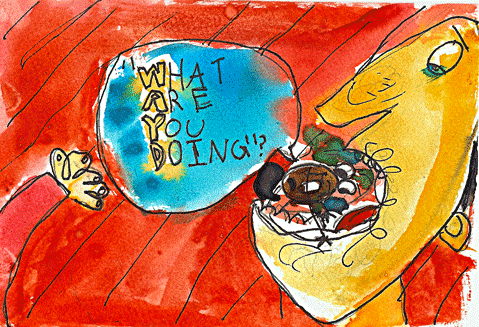 Once, very early in the morning, Arnie the Doughnut was cooked up and put on a tray. Arnie is a very curious doughnut. He wanted to remember what happened to him when he was getting made. He loved every moment of it. He met all sorts of pastries. He knew that lots of people came from all over town to meet doughnuts (or so he thinks). Then someone reached down and chose him! The man who chose him was Mr. Bing. He thought there was a grand exit for him. He was bumpy on the way home (he was in a car). They finally got home. Arnie thought it was really cute that Mr. Bing was holding him. Then Arnie felt himself go up, and up, and up. HE WAS HEADED STRAIGHT FOR MR. BING'S MOUTH!!! He was terrified. HE DIDN'T KNOW HE WAS GOING TO GET EATEN! He used the man's phone and called the bakery. He asked the baker if the other doughnuts knew they were going to get eaten. They all shouted, "YES. WE KNOW. WE'RE DELICIOUS!" Arnie dropped the phone. He was crushed. He didn't want to hear another word. He got onto the plate and said...wait. If I tell you, I'll give it away. So for you to find out, you will have to read the book!
I like Arnie the Doughnut because I think this story has great illustrations that are hilarious. My favorite part is when Arnie was remembering what happened when he was getting made. The author made a how-to illustration to show everyone what Arnie was thinking. It was kind of like a comic book. I learned a lesson, and that lesson is...that you should never want to be someone else. You are good enough the way you are. You should never try to change. It made me prouder of who I am.
I recommend this funny and entertaining book to to everyone because of the illustrations. The colors are bright and cheerful. Sometimes you can actually see the brush strokes. They really pop out to me. I think anyone who loves talking doughnuts and nonsense would love this book. It teaches you to keep being you who are and it taught me to by myself everyday, and to have more confidence in my everyday life.