Nosy Noodles
Written by Susan Purkapile
Illustrated by Barbara Ducommun
Reviewed by Lauren VB. (age 8)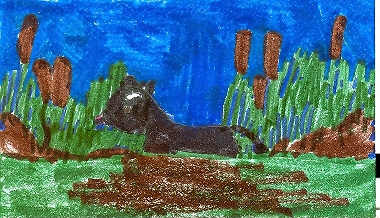 Have you ever really wanted to get into something and get in lots of trouble? I know a cow who did. It all started when a cow was giving birth to a calf. The baby had a white spot shaped as a noodle on her forehead. Noodles became her name. She never had time to play with "normal" calfs. She was always to busy with exploring. When she got older she was still nosy and Farmer Brown was still saving her. Read this book to see how Noodles gets into trouble.
My favorite part was when Noodles found a clover patch and she swam all the way to the other side because at first she thought it was easy. But she found out maybe she shouldn't have been so nosy that time. I liked Noodles because she was funny, interesting and definitely very cute. Noodles reminds me of my best friend Natalie and me together because we are always silly and definitely very nosy!
I recommend this book to animal lovers because this book is sure animal friendly!