Zack Files: Trapped in the Museum of Unnatural History
Written by Dan Greenburg
Reviewed by Max K. (age 7)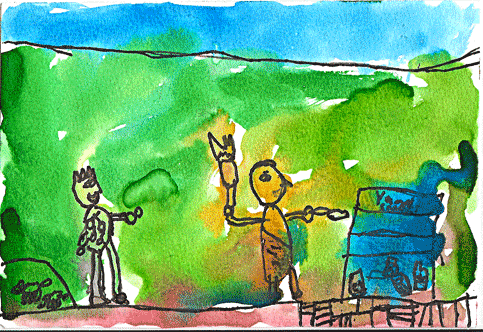 Do you like weird stuff? If you do, you'll love Zack. Zack is a boy in the fifth grade at the Horace Hyde White School for Boys. He and his class went to the Rosencrantz Museum of Natural History. But he doesn't know how spooky it is until he gets locked in the museum at night and Ice Age creatures come to life! He meets a neanderthal named Moog. Will Moog help Zack get out of the museum okay? Or will he be inside forever!? Just read the story to find out.
I loved Trapped in the Museum of Unnatural History because it is half horror and half humor. It is scary and funny all jammed into one. I loved Zack because weird stuff always happens to him. My favorite part is when Moog saves Zack from a herd of Wooly Mammoths. It is very generous to help somebody. This story reminds me of myself. Once, I got lost in the park and it was as creepy as Zack might have thought the museum was. I was lost for such a long time, the police had to look for me! Zack also made me learn a lesson: always stay with who you are with.
I recommend this story to museum lovers, Ice Age lovers, people who love weird stuff and people who love adventure. Zack and Moog must interest you because Zack always gets into cool adventures and Moog is a big laugh. Just put it together and it's fun. If you read the Magic Tree House books, you will know what it's like because they both take wild adventures. If you love adventure, suspense, it's all yours. I have to admit, this quirky, clever and special book is just your thing - plus you'll get laughs!