Junie B. Jones Has a Monster Under Her Bed
Written by Barbara Park
Reviewed by Bronwen B. (age 7)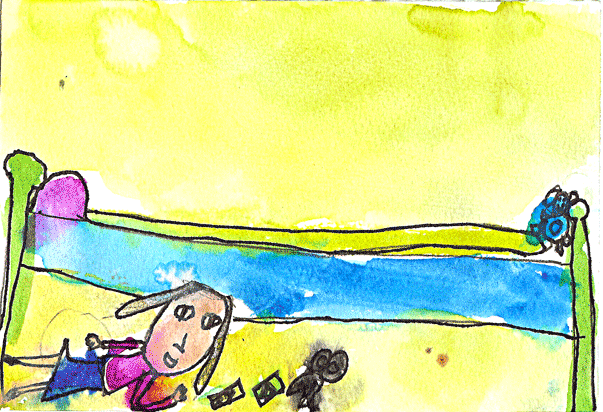 Do you like funny, crazy kindergartners? If you do, you'll like Junie B. Junie B. is a very, very funny little girl. She has two best friends, Lucille and Grace. She does kind of crazy stuff. One day at school, on school picture day, a mean boy named Paulie Allen Puffer told Junie B. everyone has a monster under their bed...even Junie B.! Junie B. believed him and she was scared! Junie B.'s parents try to tell her it's not true, but she still believes him. Her grandma had to shine a flashlight under Junie B.'s bed and look for a monster for Junie B.! Will Junie B. ever get over her fear? You have you read it to find out.
I enjoyed Junie B. Jones Has a Monster Under Her Bed because it is funny. My favorite part is when Junie B. puts her weird pictures of herself under the bed to scare the monster. It is my favorite part because it's funny and a weird and crazy idea. I think Junie B. is funny, crazy and a little bit weird because she calls the photographer the "cheese man" because he makes you say "cheese" when he takes your picture. Junie B. is a little bit like Eloise from the Eloise books because they are both little girls that do weird stuff. Eloise walks her pet turtle on a leash!
I recommend Junie B. Jones Has a Monster Under Her Bed to people that love funny books and funny characters because Junie B. is super funny. It will interest people that like crazy kindergarten kids and monsters. I also recommend this book to people that are scared of monsters so they can get over their fear. You will love Junie B. Jones books if you like quirky, entertaining books.