Pinky and Rex and the Mean Old Witch
Written by James Howe
Illustrated by Melissa Sweet
Reviewed by Emma L. (age 7)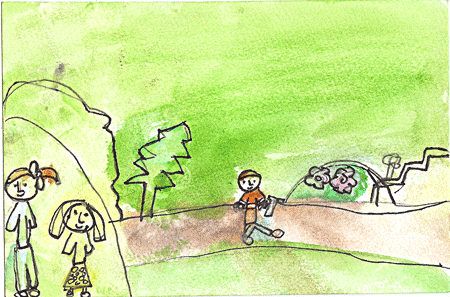 Pinky and Rex and the Mean Old Witch is a special book about friendship. Pinky is a boy who loves pink. That's why people call him Pinky. Rex is Pinky's best friend. Amanda is Pinky's sister. One day when they were playing Monkey in the Middle, the ball rolled into Mrs. Morgan's yard. She is Rex's neighbor and she is mean. She shooed them away with a broom and yelled at them. Pinky and Rex felt mad and decided to put goopey goo in her mailbox. Do you think they will do that? Well, you'll have to read and find out.
I enjoyed Pinky and Rex and the Mean Old Witch because it reminded me of when I had a mean neighbor. When I made some noise, she would stomp up the stairs and bang on the door. I was angry when she came up, so I think that Pinky is angry too. I like the illustrations because they really show me what is happening in the story. I also learned that you should get to know the person before you think that they're a mean person.
If you like friendship books, this book is for you because the most important part is about friendship. When you read this book, I think you will like it a lot.