Great-Uncle Dracula
Written by Jayne Harvey
Reviewed by Deepthi.G (age 10)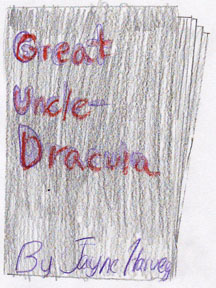 This book is about a girl named Emily Normal,who moved into her uncle's house with her father and brother after her parents got divorced. She is thrown into a new city and new school. Nothing about this city is normal! Even her uncle, who did not even eat garlic was a Dracula!!
School was far from the ordinary. She had to deal with witches, ghosts and werewolves. To them she was different and unusual. Though she made friends with a witch, a ghost and a werewolf, she was always teased by the meanest witch Wanda, who challenged her to take part in the Gross Face Context. Will Emily Normal take the title from Wanda? You have to read and find out.
The main lesson I learned from this story is that if anyone makes fun of the way you look or talk, it is best to ignore them like Emily should have done.
I recommend this to boys and girls who have to face similar problems like Emily faced at school. I also like this book because it has both reality and fantasy.