Ramona Quimby, Age 8
Written by Beverly Cleary
Illustrated by Alan Tiegreen
Reviewed by Nikitha.S (age 9)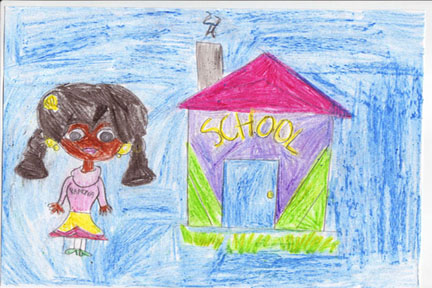 This book is about Ramona's experience in 3rd grade.It is the end of summer and like most of us Ramona is nervous about her first day at school in 3rd grade. Her family ,however ,thinks it is not a big deal.On the bus to school, she meets a boy named Yard Ape,who is also of the same age and class as Ramona.She meets her new teacher Mrs. Whaley who seems very kind anf friendly.
Ramona's first day was very interesting and funny. She gets boiled eggs into her hair and becomes sick in class. She is teased by Yard and has a bad start at 3rd grade.
You need to read further to know how Ramona has a great year in third grade and how Yard becomes her friend.
I like this book, because I am a bit like Ramona, sensitive and spirited. This book has a lot of humor and made me laugh. I particularly like the part when Ramona had boiled eggs in her hair! She must have felt so bad.
I have read other stories about Ramona by the same author and this book is my favorite one.
I recommend that this book should be read by all those who are afraid of the new school year in fall. Like Ramona, they can make the best of a new school year.