Detective Camp
Written by Ron Roy
Illustrated by John Steven Gurney
Reviewed by Olivia G. (age 9)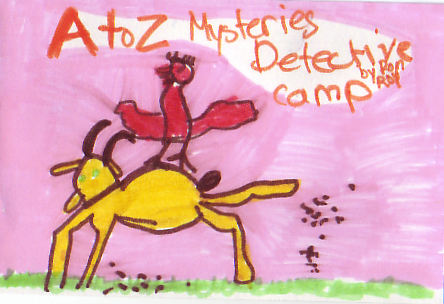 Dink, Josh and Ruth Rose are off to summer camp. But this isn't just any camp . . . it's a camp for detectives! Detective Camp is a story about three kids trying to figure out two mysteries at the same time. They are wondering, who stole the paintings from the camp library and who stole Madamoiselle Musee's diamond ring. The three detectives try to solve these mysteries before Madamoiselle Musee does. Can they find the thief?
I like the book Detective Camp because it makes me wonder a lot. The author Ron Roy doesn't make the mystery too easy to figure out. It's fun to try and solve the mystery when you don't have a clue who did it! My favorite part of the book was when the detectives figured out who was stealing the paintings and why. I never suspected it to be who it was. This story kind of reminds me of my life, too. My grandpa is an artist and he made some paintings for me. My brother always tried to take them. One day I came home and caught him red handed trying to leave my room holding one of the paintings!
I recommend this book to people who like to read mysteries. I think it would be best for kids in third through fifth grade. It's a book that keeps you wondering right to the end.